Beautiful Memories Gemach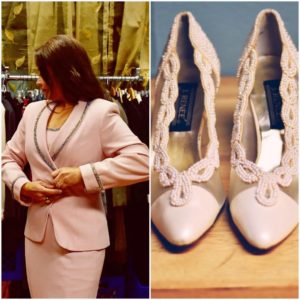 The Beautiful Memories Gemach was founded by Mark and his wife, Dr. Beth Krieger in memory of their loved ones who have passed on.  The word Gemach is an acronym of the words for "acts of loving kindness."  The idea that started it all was to help people make beautiful memories by giving them nice clothing to wear to happy occasions if they couldn't afford to buy it themselves.  What started with a few small donations of dress clothing for men, women and children has become a major undertaking, housing over 700 gowns for all occasions, suits, tuxedos, shoes, belts, accessories and more.  If you, or a person or organization you know is in need of dress clothing and cannot afford to pay for it, please contact Mark about the Gemach.
To help defray the cost of running the Gemach, people can shop at the Gemach for beautiful clothing in new or like new condition, including some designer brands for a donation of a fraction of their retail value.  You can learn more about the Gemach at BeautifulMemoriesGemach.org.
The Gemach is located in New Hyde Park, is run entirely by the Kriegers and their crew of volunteers, lovingly know as Gemacheteers, and is open by appointment only.  Call Mark to make an appointment.