Ronald A. Fatoullah, Esq., CELA*, is the managing attorney of Ronald Fatoullah & Associates, a law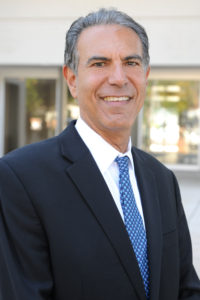 firm focusing on Elder Law, Estate Planning and Special Needs Planning. Mr. Fatoullah and his firm are known for their outstanding services to the senior citizen and special needs communities. He is an award winning elder law attorney who has been recognized in New York Magazine as one of "The New York Area's Best Lawyers" for ten (10) consecutive years.
Ronald Fatoullah is also a partner of AdvicePeriod, a comprehensive wealth management firm with
offices located in New York and Los Angeles, CA. AdvicePeriod's mission is to provide the best independent financial advice available, whether individuals are investing for retirement or for college education. The firm's aim is to have its clients reach their life goals through proper management of their assets, and most importantly with timely, thoughtful and creative estate planning, tax and financial advice.
He has received the prestigious Rose Kryzak Award for his "years of outstanding legal services to the senior population". He also received the "Building Bridges" Award from AARP. In September, 2010, Mr. Fatoullah was honored by the Arthritis Foundation, New York City Chapter with it's "Community Leaders Award." In February, 2012, Ronald Fatoullah received the "World Award" from the Senior Umbrella Network of Brooklyn in recognition of his exceptional support and meaningful contribution to that organization. His latest honors are the "Achievement in Elder Care-Estate Planning Award" from the Varadi Ovarian Initiative for Cancer Education (September, 2012) the "Senior Care Humanitarian Award" from the Sephardic Nursing & Rehabilitation Center and Sephardic Geriatric Foundation of New York, Inc. (October, 2012), and honored as a "Parker Platinum Professional" by Parker Jewish Institute for Health Care and Rehabilitation (December, 2012) and an award from the New York State Bar Association in recognition for his advocacy, drafting and persistence in creating the legislative initiative for the New York State Uniform Adult Guardianship Act (January, 2013). The Uniform Adult Guardianship Act was signed by Governor Cuomo in October, 2013. In March, 2018, Mr. Fatoullah received the Leon Von Holden award for his commitment in advocating for services to improve the quality of life of seniors.
Ronald Fatoullah currently serves on the Executive Council of AARP New York. He was awarded the credential of Fellow by the National Academy of Elder Law Attorneys ('Naela'), the highest honor bestowed by Naela. He is a Charter member of the Council of Advanced Practitioner of Naela and he chaired Naela's Public Policy and Public Relations Committees for many years. Mr. Fatoullah is currently the President and a member of the Board of Directors of the New York Chapter of the National Academy of Elder Law Attorneys (NY-NAELA). He also currently serves as Co-Chair of the Board of the Alzheimer's Association LI Chapter and the Chair of the Legal Committee of that organization.
Mr. Fatoullah has been frequently quoted in the New York Times, the Wall Street Journal and Newsday.  He has also co-authored the "Long Term Care Planning Guide for Accountants". His law offices are located in Manhattan, Long Island, Queens and Brooklyn.
*Certified as an elder law attorney by the National Elder Law foundation