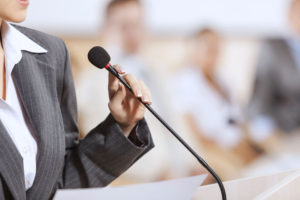 Nothing adds more to a great educational, self-help, business or charitable event than a great speaker or panel.  We provide speakers for business events, organizations and houses of worship. There is never a cost to you.  If you have a specific need that you don't see addressed in our list of speakers, please contact us to see if we might be able to accommodate your needs.  Contact Mark to learn more about booking one or more of the individuals who are part of our speakers bureau for your event.  You can add a keynote speaker to your event, or add a fundraising component by working with one of our speakers.
We can also help you create an event that is custom-tailored to your audience by engaging a panel of experts who can provide different perspectives on a particular issue or interest.  For example, if the audience has a common interest in special needs, we can provide an attorney who provides the help they need to navigate issues with the education system, someone who specializes in training to help overcome limitations and an attorney who sets up trusts and other financial vehicles to make sure that the special needs individual receives all of the support they are entitled to.  Click on the name of any of our experts to learn more about them, or call Mark to discuss a program that would be perfect for your audience.
In addition to all of our other speakers, Mark Krieger Speakers is partnering with Annette Roth of Northwell Health to bring hundreds of health related topics presented by healthcare professionals to your organization.  Click on the link for Annette Roth or Northwell Health to learn more.
Speakers are listed below in alphabetical order.  If you are looking for a specific area of expertise, you may find one of our pages that lists them by topic to be useful.