Speakers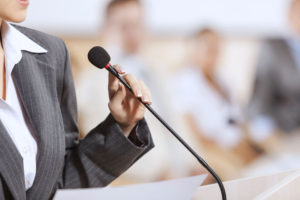 Nothing adds more to a great educational, self-help, business or charitable event than a great speaker.  We provide speakers for business events, organizations and houses of worship.  Sometimes, they will even speak at no cost to you.  If you have a specific need that you don't see addressed in our list of speakers, please contact us to see if we might be able to accommodate your needs.  Contact Mark to learn more about booking one of the individuals who are part of our speakers bureau for your event.  You can add a keynote speaker to your event, or add a fundraising component by working with one of our speakers.  Click on their name to learn more about them.
Aviva Chansky Guttmann, LMSW, CIRT ,  is a Licensed Social Worker, Certified  IMAGO Relationship Therapist and Workshop Leader
Jacqueline (Jackie) Harounian is a Law Partner at Wisselman & Associates, a matrimonial and family law firm.  Jackie's areas of practice include mediation, litigation, religious divorce, complex and high-net worth clients.
Caryn Isaacs, Board Certified Patient Advocate is a unique resource for older adults who do not have anyone to help them to accomplish their preferred lifestyle going forward.
Samuel M. Katz is an internationally recognized expert on Middle East security issues, international terrorism, and military special operations and counterterrorism.
Shmuel Reichman is an inspirational speaker, writer, and coach who has traveled the world inspiring thousands of people at live events.
Ronit Rogoszinski is a Senior Wealth Advisor and partner at Slate Stone Wealth LLC.  She has specialized in helping women in transition with their financial matters.
Benjamin Ryberg, Esq. is the Chief Operating Officer and Director of Research at The Lawfare Project, which provides legal protection for the Jewish people.
Dr. Debi Silber, President, Debi Silber Companies, LLC, The Silber Center for Personal Growth and Healing, The PBT Institute
Susan Urban, founder of Susan Urban Fitness, Certified Practitioner in Neuro Linguistic Programming, Time Line Therapy®, Hypnotherapist, Nutritionist, and Personal Fitness Trainer.
Miriam Yerushalmi holds an MS in Psychology and Family Therapy. She  combines behavioral and humanistic approaches to address a wide spectrum of psychopathology, offering a unique perspective on essential life issues, ranging from relationships and parenting to self improvement.